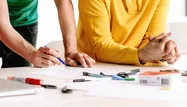 Work with us
With over a decade of knowledge in creating Bluetooth trackers we were one of the first companies to successfully integrate our products with the Apple Find My app and Google's Find My Device app.
Based on our own experience, we will be able to guide you through all the steps of the integration process and save you a lot of valuable time and resources.
FROM PLANNING TO IMPLEMENTATION
What we offer
Consulting
We will help you evaluate the costs of the project and guide you through all the steps of the integration process.
Firmware integration
Want to combine your own app and an existing finder network? With our firmware solution our team can make it happen.
Hardware integration
Need to adjust your hardware to integrate an existing finder network? We can guide you and help with the execution.
Location tracking as a unique selling point

Bikes
A compact and discreet bike tracker can provide valuable peace of mind and improve the overall biking experience for any type of cyclist.
Enhance the security of a bike with active location tracking through the Apple Find My network or Google's Find My Device network.

Luggage
Safeguard any type of luggage with added tracking capabilities and enhance your customers' travel experience.
Your customers will be able to track and locate their luggage with accurate location updates on their mobile phones.

Tools
Revolutionize the way your tools are managed and help your customers enhance their security and efficiency.
Integrating a tracking solution will save your customers' time and money by minimizing losses and increasing productivity, while giving you a competitive advantage on the market.
Clear cost evaluation
A transparent breakdown of the costs involved in the integration of Bluetooth technologies into your products.
Transparent workflow
A clear step-by-step plan of integration from evaluation to first prototype all the way down to final production.
Open and detailed communication
An open channel of communication where we can discuss integration options and exchange information about expectations and potential costs.
"Chipolo, the 10-year-old maker of similar lost item location devices, has remained self-funded all these years, having sold 3.5 million devices and growing its revenue to the double-digit millions."
"The first Find My-enabled products have been confirmed and include VanMoof's stunning e-bikes, Belkin's Soundform Freedom True Wireless Earbuds and the Chipolo One Spot item finder."
"Google's Find My Devices network adds key and wallet trackers from Chipolo."
Contact us
Schedule a call with our team and find out more about our workflow.
Frequently Asked Questions
Can you prepare a cost assessment?
We can estimate the bill of materials, project costs, and production costs, helping you make informed decisions and plan your budget effectively. With 10 years of extensive experience, we can ensure that you have the necessary insights to make informed decisions and effectively manage your budget.

Why should I get Chipolo's firmware for my product?
Our firmware has already undergone rigorous testing and external approval processes through the development for our own internal products. This saves you valuable time and resources, allowing you to integrate proven and trusted firmware to additionally enhance the value of your own products.

Can we integrate Apple Find My or Google's Find My Device into our product on our own?
Yes, you can integrate either completely on your own. However, it's important to consider the challenges and complexities you will face in the integration process. Our team has already efficiently resolved all of them for both Apple's and Google's network and gained valuable expertise in the process. By partnering with us, you can save yourself time and effort and leverage our experience to efficiently integrate either Apple Find My or Google's Find My Device technologies into your products.

What is the benefit of working with Chipolo?
The Chipolo team already has 10 years of experience in Bluetooth tracking technologies in general as well as integrating our technologies into partner products. You will also benefit from our experience of integrating our own Chipolo trackers in the Apple Find My and Google's Find My device ecosystems.
We are committed to providing a successful partnership experience based on open and detailed communication, clear cost evaluation and a transparent workflow.

What does the integration process look like?
At Chipolo, we recognize that every business is unique and may be at a different stage of development. That's why we tailor the Bluetooth tracking integration process to align with your product and your team's overall knowledge. Our flexible approach ensures that the partnership meets your requirements, allowing for a seamless and efficient integration experience.