We Are Announcing the Launch of Two New Products in 2017
This year is going to be super exciting! We are announcing the launch of two new products at the 2017 International Consumer Electronics Show in Las Vegas. Chipolo Sticker and Chipolo Clip are the World's Tiniest and Thinnest Bluetooth trackers!
Being smaller and thinner than any competitor on the market, Chipolo Sticker and Chipolo Clip minimize the bulky feel of Bluetooth trackers and help people keep tabs on compact items like glasses or a wallet.
At about the size of a paper clip, Chipolo Sticker is the world's smallest wireless tracking device. It is perfect for users who want to track items that have a small surface area and can't easily attach to a traditional Bluetooth tracker, like a pair of glasses, a remote or headphones. While Chipolo Sticker is 63 percent smaller than its predecessor, the Chipolo Plus, its 85-decibel melody still packs a punch. Chipolo Sticker is the first tracking device with built-in wireless charging capabilities powered by Energous Corporation's WattUp* technology. WattUp is a revolutionary radio frequency (RF)-based charging solution that provides over-the-air power to quickly charge Chipolo Sticker.
Chipolo Sticker is coming late 2017.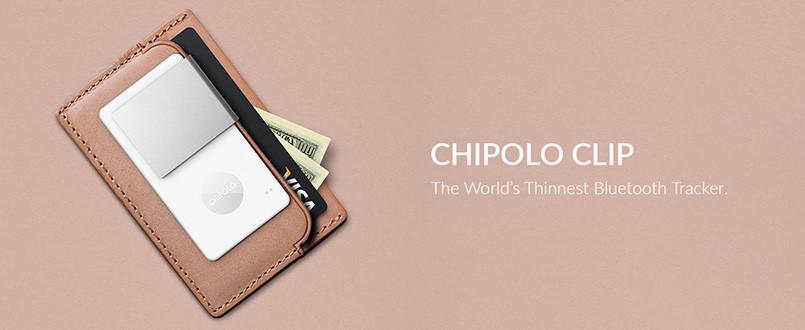 Chipolo Clip is the world's thinnest battery-powered tracking device, which is 28 percent slimmer than competitor Tile Slim. It has a 90-decibel volume and is designed to easily attach to a student ID or passport. Users can take off the removable clip so its fits comfortably into a wallet too. Its non-replaceable battery lasts 12 months, and after that time, users can replace their Chipolo Clip with a new one for 50 percent off.
Chipolo Clip is coming this Spring!
New Shapes, Same Mission
The Sticker and Clip will join Classic and Plus on a mission to help you find the things you care about really quick and easy. Both new products pair with the Chipolo app, which is available on iOS and Android. When you misplace an item that is synced with Chipolo, the app can play a loud melody to guide you to the missing item as long as you are within 200 feet of it. If the item is out of Bluetooth range, the Last Known Location feature on the app displays where it was last seen. If a Chipolo is marked as lost and someone in the Chipolo Lost & Found Network comes within range of it, users are notified of its new location.We are so excited for you to try and fall in love with our new products! We designed them with your wishes in mind to help you find even the smallest and thinnest items you care about.
Make sure you get all updates on the release of new products. Like our Facebook page.