Always looking
for your cat?
Attach a Chipolo finder to your cat's collar and
find them with your phone.
Chipolo ONE
Bluetooth finder
Perfect for finding your cat when it hides around your home. Use the Chipolo app on your phone to ring the Chipolo on your cat's collar or check the last location when the tracker was connected on a map in the Chipolo app.
FREE SHIPPING for all orders over $50
Each Chipolo is individually packed
30 days money back guarantee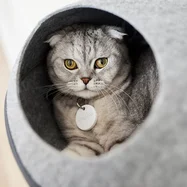 Can I track my cat anywhere with Chipolo?
No, the Chipolo is a Bluetooth tracker with a limited range of up to 200 feet (60 meters). It works best with indoor pets that stay close to home, so it's perfect for finding a cat that's hiding indoors or roaming somewhere in the garden.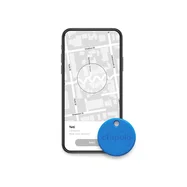 Finding your cat has never been easier.
With a Chipolo on their collar, you can see if they're near or ring the Chipolo to discover their hiding spot in the phone app.
Attach
Chipolo to your cat's collar
Ring
Chipolo from the Chipolo app
"I rang the Chipolo and could hear it clearly. I slowly approached the sound, and found Dibby hiding under and a pile of sticks and leaves."

Maggie

"To be sure that she is doing fine, we ring the Chipolo on her collar, rather than searching the whole house/area. We and Flora feel more free while using Chipolo for sure."

Nathan

"Chipolo has been handy in giving Chessie a "ring" to find out exactly where she's hiding or sleeping! We love how subtle it is, it's small and compact."

Anna
Frequently Asked Questions
Is Chipolo ONE water-resistant?
Yes, Chipolo ONE is IPX5 water-resistant. This means it can resist a sustained, low-pressure water jet sprays. Simply put, if your pet gets splashed, Chipolo will be just fine - they just can't go swimming wearing a Chipolo.
Which pets is Chipolo suitable for?
Chipolo is a Bluetooth tracker that uses your phone's Bluetooth signal to connect. The connection range is limited to up to 200 feet / 60 meters, so it is more suitable for keeping an eye on smaller, indoor pets hiding and sleeping in or around the house.
What is the range of Chipolo?
Chipolo works by connecting to the Bluetooth signal on your phone. Chipolo's Bluetooth range can extend up to 200 ft (60 m) when there is a clear line of sight from your phone to the Chipolo.
How is this different from a GPS tracker?
If you want to see the location of an object or person (like your car, dog, child) at any time and also track his movement, you will need a GPS, but it will be far more expensive and you'll have to charge the battery often.
If you need something that will help you find an item that is usually just misplaced somewhere around you (like keys, wallet, backpack or hiding cat), Bluetooth finder is the better choice, because it's cheaper and you will have no hassle with the battery. Because of the limited range, you won't be able to see the live location of your item if it's far, but you will be able to see where you last had it, so you can go back and retrieve it. And with Out of Range Alerts, Chipolo will even remind you to take your items, so you don't leave them behind in the first place.
Is my phone compatible with Chipolo?
Chipolo item finders are compatible with devices running iOS 12.4 and later, and devices running Android 7 and later. For Chipolo to work, the device must also be equipped with Bluetooth 4.
What battery does the Chipolo ONE use?
The key finder uses a coin-shaped battery model CR 2032 that you can find in most shops selling regular AA batteries. When the battery runs out, you can replace it yourself in a few simple steps.
Why should I choose Chipolo?
There are a lot of item finders on the market, but Chipolo is one of the few that offers a reliable product and a regularly updated app. It's also the only one that offers all its features without additional subscription fees. You can choose from six vibrant colors that will complement your keys, bag, or backpack.