Our Story
We believe there's a better, smarter way to find lost things, one that takes all of us working together. Our mission is to make that happen and give every item the power to be found.
Who We Are
"In our core, we're simply family and friends. We're passionate and ambitious about what we do, and we count on each other to keep our products simple, smart and most of all, reliable." Primož Zelenšek, CEO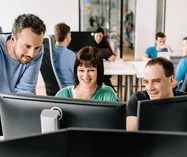 How It All Started
It all began with 7 friends facing an everyday problem…finding lost keys. We Kickstarted Chipolo in 2013 and from there grew into an international company present in 195 countries worldwide.
Chip + Colour = Chipolo
Our name is everything that matters about Chipolo. Smart on the inside and colourful on the outside, it forms the perfect combination to help you find your lost things easily.
LET'S FIND IT TOGETHER
Work With Us
We're a creative collective focused on finding a simple solution to the never-ending search for personal belongings. We believe in teamwork and developing new talents and knowledge in every member of Chipolo.