Smart Key Finder
Attach the Chipolo Bluetooth key finder to your keys and find them with the accompanying app on your smartphone.

* Chipolo Spot finders work exclusively with the Apple Find My app, while regular Chipolo finders work with the Chipolo app.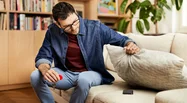 Use Chipolo To Find
Your Lost Phone
Chipolo is the perfect Bluetooth tracker to help you keep track of your keys and your phone. Attach Chipolo to your home or car keys and connect it to the Chipolo app.

* Feature not available for Chipolo Spot products
Find with Chipolo features
Ring
your item with the Chipolo app or double click Chipolo to ring your phone.
Track
your item to where you had it last via the Chipolo app.
Be alerted
if you leave without your keys, wallet or other item.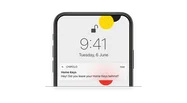 The Fastest Way To
Find All Your Things
Get a friendly notification from the accompanying app when you leave your keys or any other item behind.

* Chipolo Spot finders work exclusively with the Apple Find My app, while regular Chipolo finders work with the Chipolo app.
Chipolo ONE
For keys, backpack, bag
Perfect for finding your keys, bag, backpack in seconds. Use the Chipolo app to ring your misplaced item or double click on Chipolo to find your phone. Get a notification from the app if you leave your item behind.
4 Pack

Free shipping

$100

$75

6 Pack

Free shipping

$150

$105
FREE SHIPPING for all orders over $50
Each Chipolo is individually packed
30 days money back guarantee
Frequently Asked Questions
Why should I choose the Chipolo key finder?
The Chipolo is a key tracker category with a reliable product and a regularly updated app. The key tracker offers a range of features such as the Out of Range Alerts, the sharing function and find your phone function without any additional fees or monthly subscriptions. It is available in 6 different colors and has a replaceable battery that will last up to 2 years.
What is the connection range of the Chipolo Bluetooth tracker?
The keyfinder connects directly to the Bluetooth signal on your phone and can stay connected for up to 200ft / 60 meters. Indoors the range is slightly decreased due to obstacles like walls.
Is my phone compatible with Chipolo finders?
For Chipolo item finders to connect, your phone must have at least Bluetooth 4.0. On Android devices, the Chipolo app will work on devices running Android 7 or later. On iOS devices, the Chipolo app will work on devices running iOS 13 or later. Check the list of supported devices on https://chipolo.net/devices
What battery does the Chipolo ONE use?
The Chipolo Bluetooth tracker uses a standard CR2032 coin battery that you can find in most stores selling AA batteries. The battery will last up to 2 years and can be replaced in 3 easy steps.
How is this different from a GPS tracker?
A Bluetooth tracker uses your phone's Bluetooth signal to connect to your phone. A maximum connection range on a Chipolo key finder is 60 m/200 ft, but this decreases indoors, with obstacles. After the connection is lost, your phone will show the last location where it was connected.
If you want to see the location of an object, a person or your pet at any time and also track their real-time movement, you need a GPS tracker. These do not connect to your phone directly but use third-party providers to help pinpoint the tracker's location. The battery on GPS trackers will last between 1 week and 1 month, while on a Bluetooth tracker it can last up to 2 years. While they do provide more accurate location information, GPS trackers also cost more and come with a monthly subscription.
What is your return and refund policy?
You can return your Chipolo order for a full refund within 30 days of receiving the order. The products must be returned in good condition and working to comply with the Chipolo refund policy. When your order is returned, you will receive a full refund to the original payment method.
Chipolo does not cover any return shipping fees.