Getting lost is an adventure.
Losing your luggage is not.
Play again
Enjoy your vacation and let Chipolo keep an eye on your belongings.
Chipolo Spot finders are compatible with the Apple Find My network that helps you locate your things any time.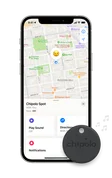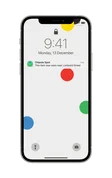 Play sound
Passport not in the right pocket? Just play sound to locate it in your bag.
Locate
Forgot your wallet somewhere? Check its last known location on a map in the Find My app.
Be notified
Receive a notification when you accidentally leave your backpack behind or when Find My network locates your lost luggage.
Can't find your wallet in your full bag?
Make it ring!
Can't stop checking your bag for your passport?
Check the Find My app instead!
Suddenly can't find your backpack anywhere?
The Apple Find My network will help you locate it.
Take a vacation where nothing gets lost.