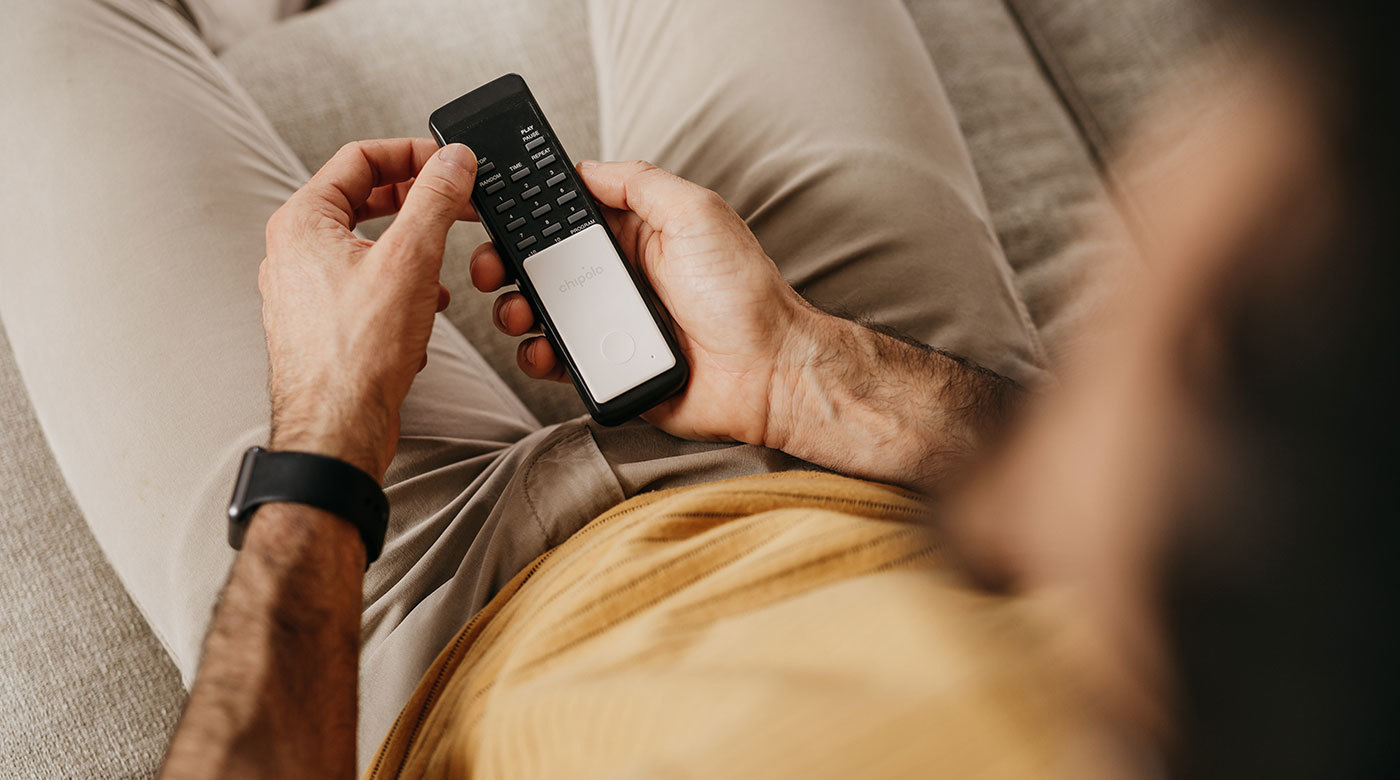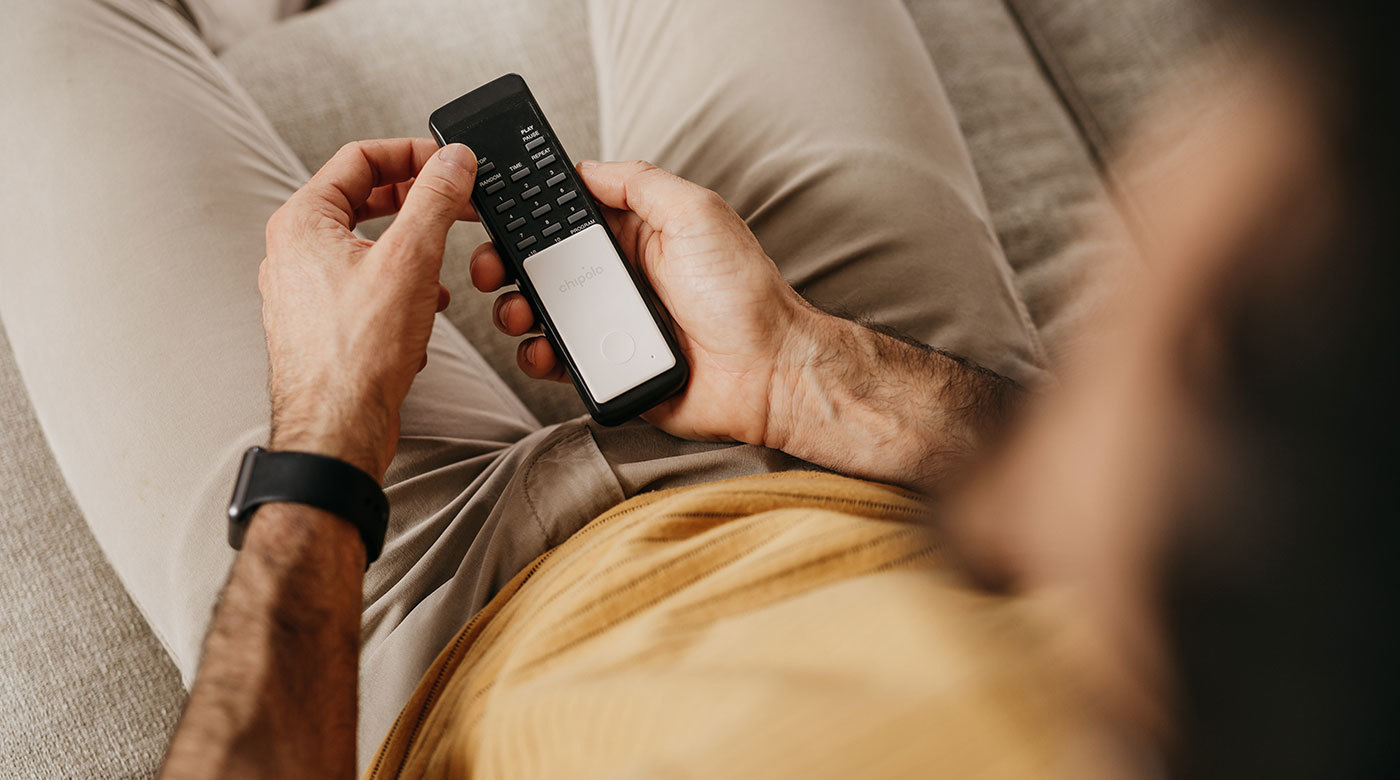 Find your lost TV remote the smart way.
Attach a Chipolo CARD or Chipolo CARD Spot finder to your remote control and make the remote ring when it goes missing.
* Chipolo Spot finders work exclusively with the Apple Find My app, while regular Chipolo finders work with the Chipolo app.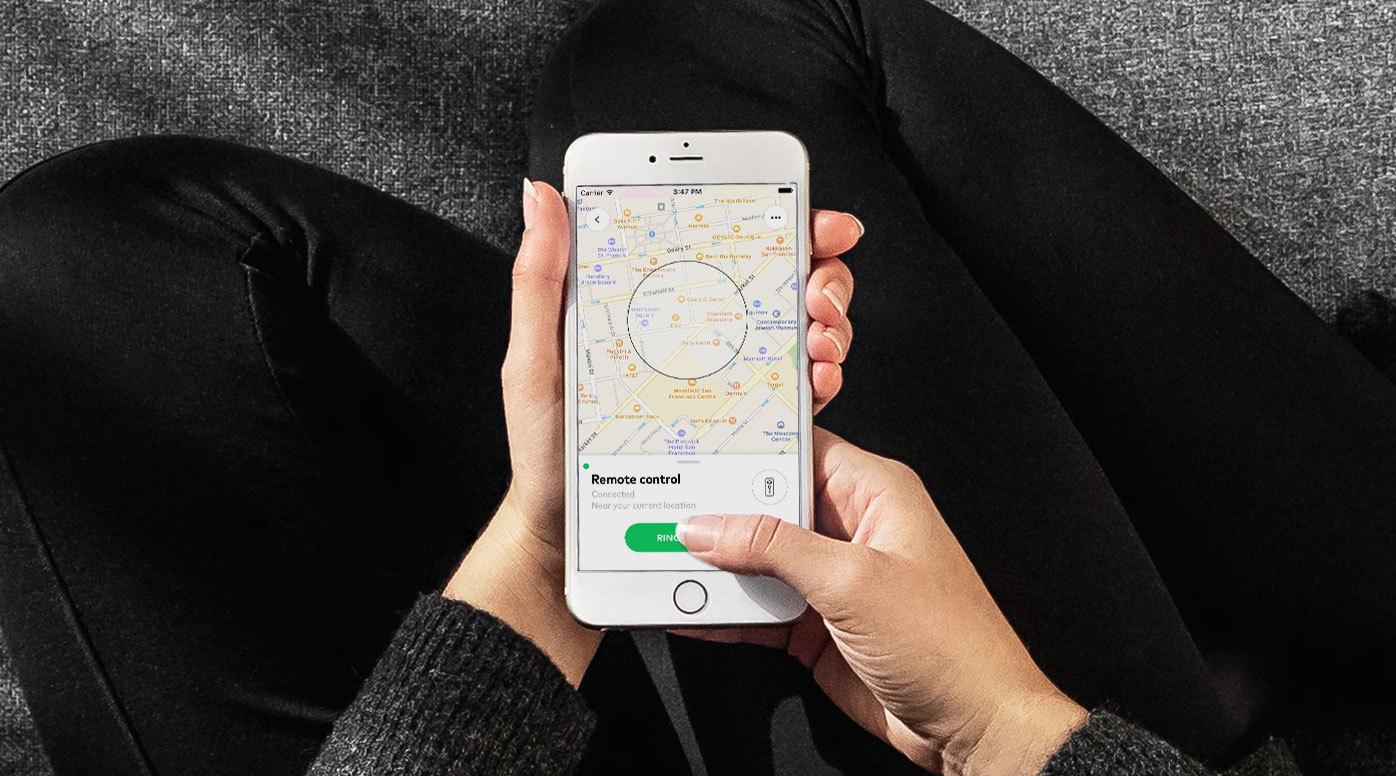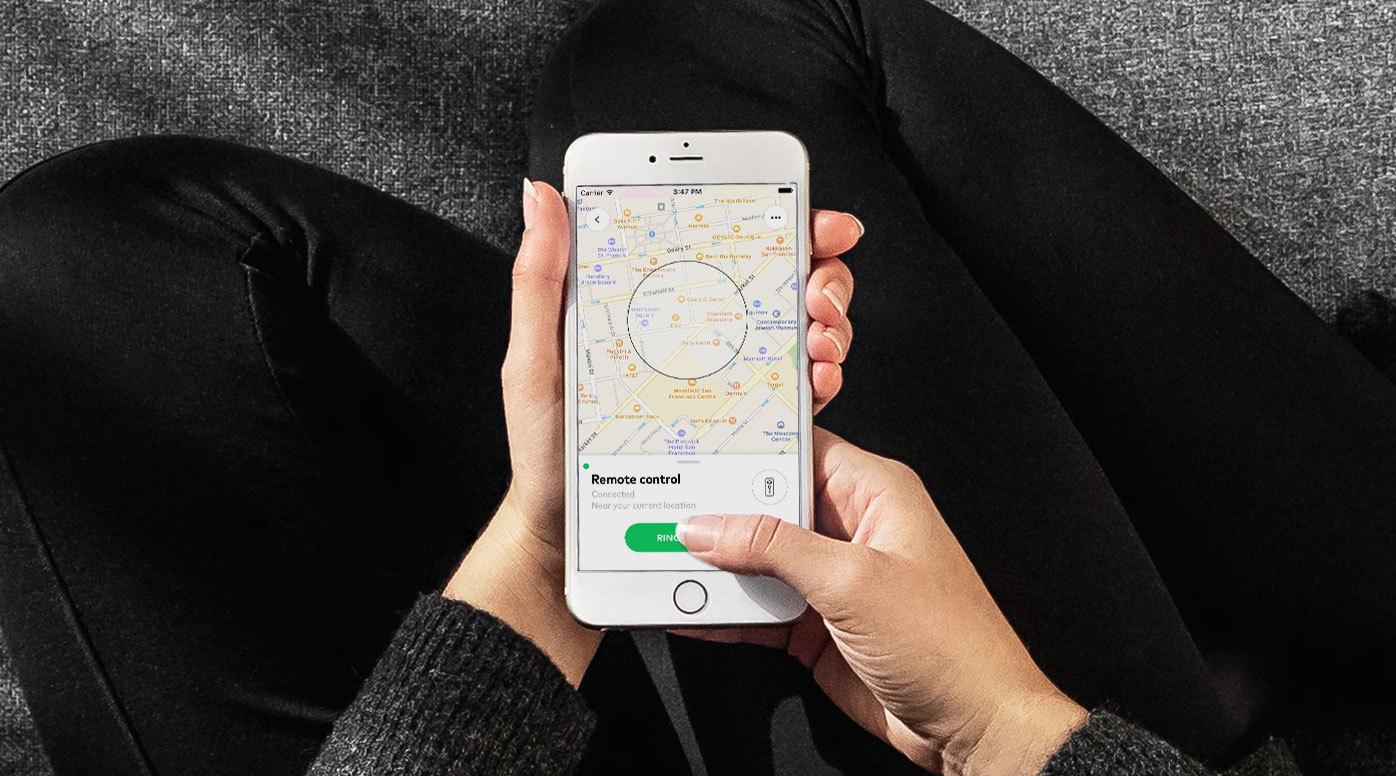 Where is my remote control?
The slim remote finder uses Bluetooth to connect to your phone, so you can make your lost TV remote ring from an app on your phone, instead of randomly searching for it through your living room.
Chipolo CARD and CARD Spot are credit-card thin Bluetooth finders that you can stick onto any remote control with a flat surface.
* Chipolo Spot finders work exclusively with the Apple Find My app, while regular Chipolo finders work with the Chipolo app.
Find with Chipolo features
Ring
your item with the Chipolo app or double click Chipolo to ring your phone.
Track
your item to where you had it last via the Chipolo app.
Be alerted
if you leave without your keys, wallet or other item.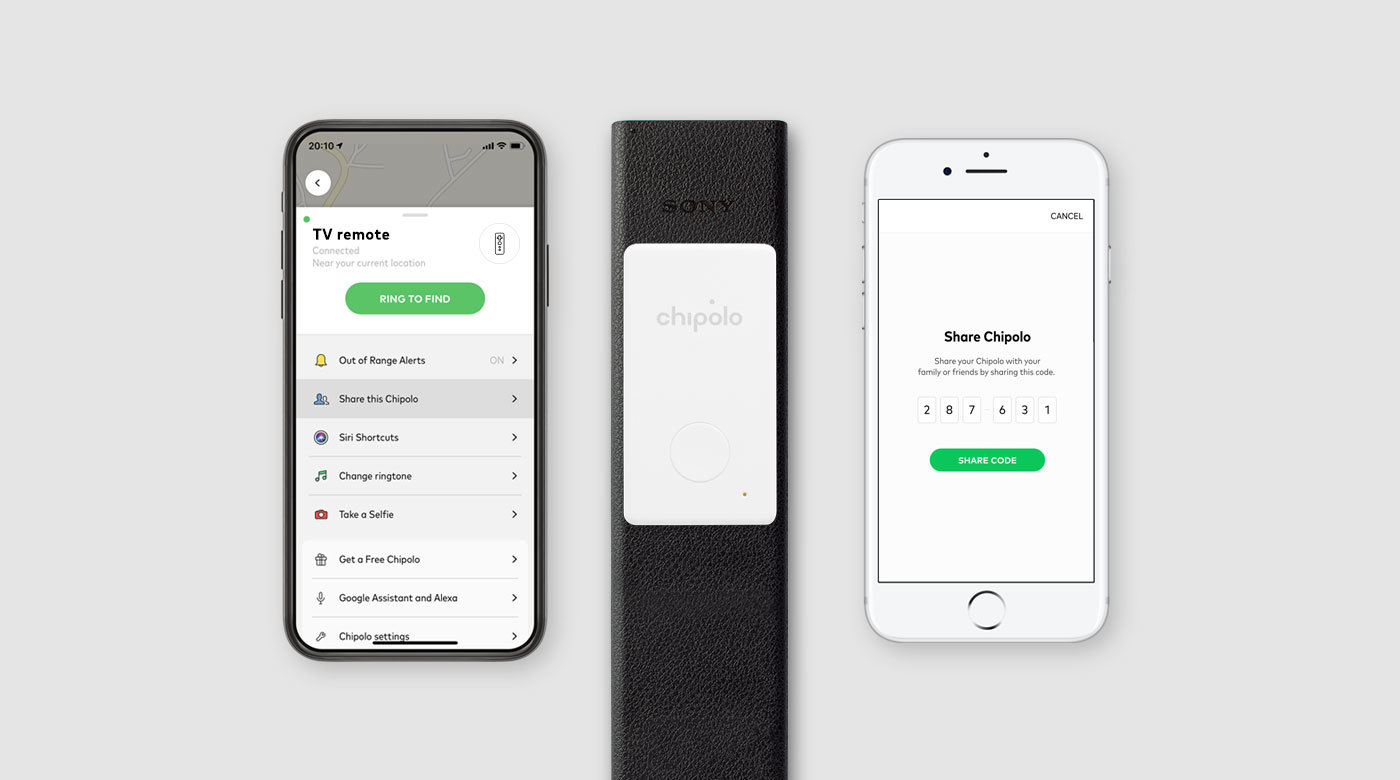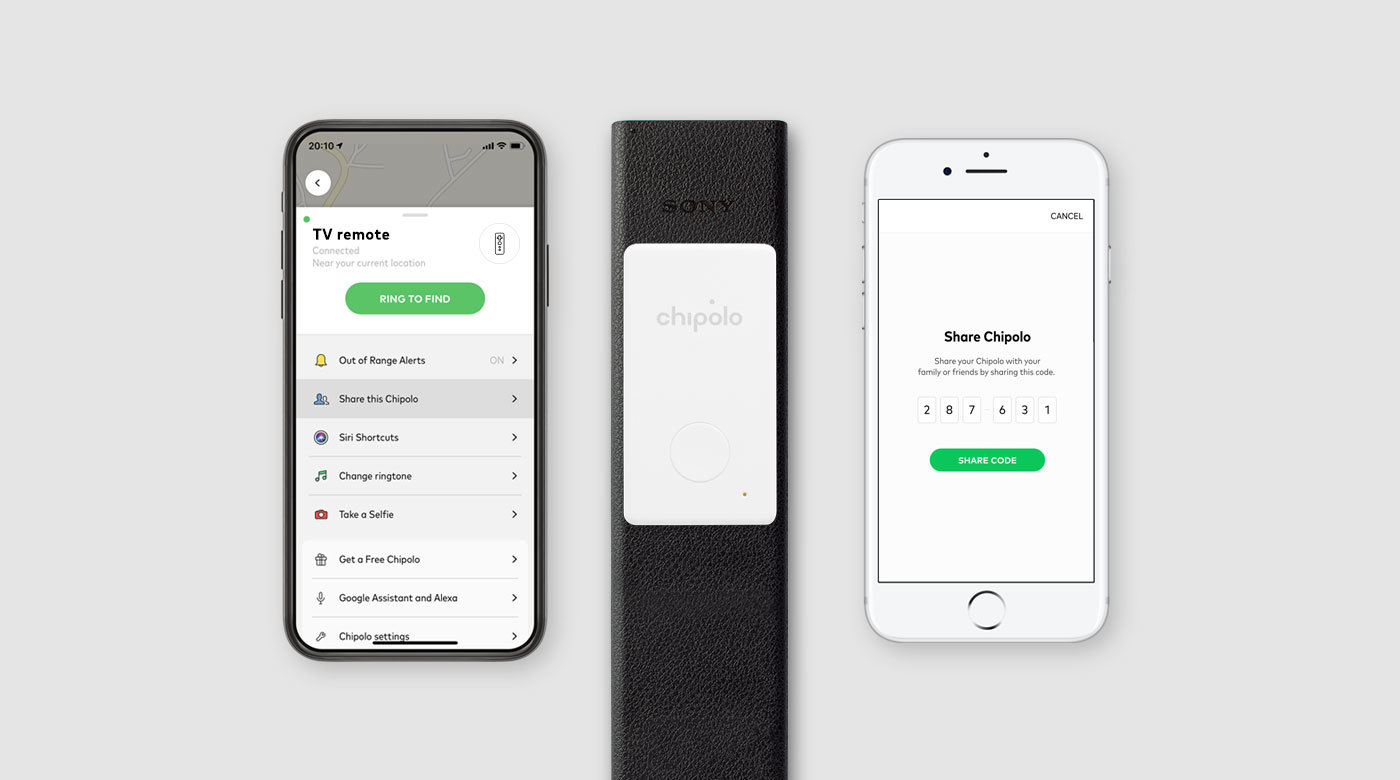 What makes Chipolo finders some of the best tracking tags?
Find your lost remote the quick & easy way. Share the remote finder with your family through the app to double the finding power and find your remote no matter where it's hiding.
* Feature not available for Chipolo Spot products
Chipolo CARD
For wallet, remote control
The thinnest Chipolo, perfect for finding your wallet, passport pouch or remote control in seconds. Use the app to ring your misplaced item or double click on Chipolo to find your phone. Let Chipolo take care of your belongings and find your peace of mind.
FREE SHIPPING for all orders over $50
Each Chipolo is individually packed
30 days money back guarantee
Frequently Asked Questions
Why should I choose the Chipolo CARD TV remote finder?
The Chipolo CARD is a credit-card thin tracker that connects to the free Chipolo app on your phone. You can ring the CARD remote tracker from your phone or use the remote finder to ring your misplaced phone. The Bluetooth tracker also offers additional features such as the Out of Range Alerts and the user sharing function, all without any additional fees or monthly subscriptions.
What is the connection range of the Chipolo CARD remote tracker?
The remote finder connects directly to the Bluetooth signal on your phone and can stay connected for up to 200ft / 60 meters outside, where there are no obstacles like walls. Indoors, the range is slightly decreased, but will remain stable for up to 150 feet / 45 meters.
How long does the battery last?
The battery on the Chipolo CARD TV remote tracker lasts for up to a year. You will get a notification in the Chipolo app when the battery is almost empty so that you can replace the TV remote tracker in time. The battery is a custom model created to keep the remote finder as thin as possible and it is not replaceable or rechargeable. When the battery runs out, the Bluetooth finder is eligible for the Chipolo Recycle & Renew program, where you can buy a new finder with a 50% discount and send your old one back to us for recycling free of charge.
Is my phone compatible with Chipolo trackers?
Chipolo CARD tracker connects to the Chipolo app, which works both with Android and iOS devices. Your phone must have at least Bluetooth 4.0 and Android 7 or later or iOS 14 or later. The list of supported devices is available on https://chipolo.net/devices
How is the Chipolo CARD Bluetooth tracker different from a GPS tracker?
The main difference between the two is their connection range. Bluetooth finders use your phone's Bluetooth signal to connect and can stay connected for up to 200ft / 60 m. When this connection is lost, the last known location of your TV remote finder will be displayed on a map in the Chipolo app until they reconnect. GPS trackers use external third-party systems to stay connected and can show the real-time location of the tracking tag at any distance.
They also differ in their battery life; Bluetooth trackers have longer battery life since they use less technology and power to stay connected. The battery life of a good Bluetooth finder will last at least over a year. The battery on a GPS tracker will usually last between 1 week and 1 month.
Most Bluetooth trackers also offer all their features without any additional fees, while GPS trackers usually have a monthly subscription.
What is your return and refund policy?
You can return your Chipolo order for a full refund within 30 days of receiving the order. The products must be returned in good condition and working to comply with the Chipolo refund policy. When your order is returned, you will receive a full refund to the original payment method.
Chipolo does not cover any return shipping fees.

Chipolo reserves the right to decline a refund for orders that are returned past the 30-day return period or are not subject to our 2-year warranty. Please see our FAQ section for additional information.